PERFORMANCE tennis camp (From 8 years old) - Nîmes
Player info
* Required fields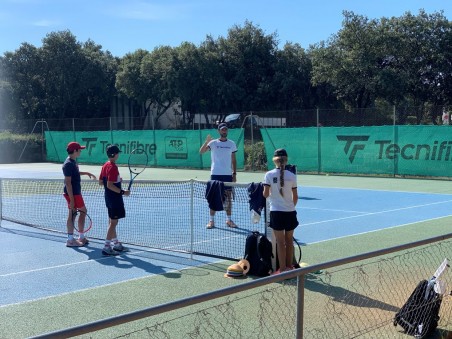  
A week of training course to progress, for all levels and all ages.
This course includes 20 hours of sports training per week:
- Tous les matins, enseignement accès sur la technique.
- Chaque après midi, on développera la tactique :
Mise en place de routines.
Analyse du jeu de l'adversaire.
Adaptation de son propre jeu (défensif, offensif)
etc
Chaque moniteur a un groupe de 4 à 6 personnes sur 2 terrains juxtaposés.
Nos coaches peuvent assurer les cours en français ou en anglais.
Tous nos moniteurs sont diplômés d'État.
Remise d'un rapport de stage à la fin du séjour.
L'hébergement est assuré sur le site même de l'Academy :
- En chambre de 2, 3 voire 4 lits.
- Zone distincte : filles - garçons.
- Encadrement 24h/24.
- Pension complète sous forme de self
- Arrivé le dimanche après 17H.
- Départ le samedi avant 14H.

Data sheet
DATES

February, March, April, May, July, August

AGE

Children 6/11 y/o, Teens 11/17 y/o, Adults

LEVEL

8 - 40-30/5-30/4, 9 - 30/3-30/2-30/1, 10 - 30-15/5-15/4, 11 - 15/3-15/2-15/1, 12 - 15-5/6-4/6, 13 - 3/6-2/6-1/6, 14 - 0;-2/6;-4/6;-15, 0 - Beginner, 6 - Evolution, 7 - Competition

COUNTRY

France

LANGUAGES

French, English

CITY

Nîmes

TYPE OF SERVICE

Tennis training, With accommodation, Tennis camp

BEACH or MOUNTAIN

Nature

GROUND

Hard court (Porous concrete), Hard court (Resin), Clay, Artificial grass

INDOOR / OUTDOOR

Indoor, Outdoor

ACCOMMODATION

Boarding school

REGION

Occitanie